Extract Data FromACORD Forms
ACORD (Association for Cooperative Operations Research and Development) Forms enable the efficient and effective flow of data among all stakeholders across the insurance value chain. Base64.ai is a member of the non-profit ACORD Organization. Our AI extracts all data from multi-page and complex ACORD forms whether they are digital or scanned.
Document type
ACORD 25 form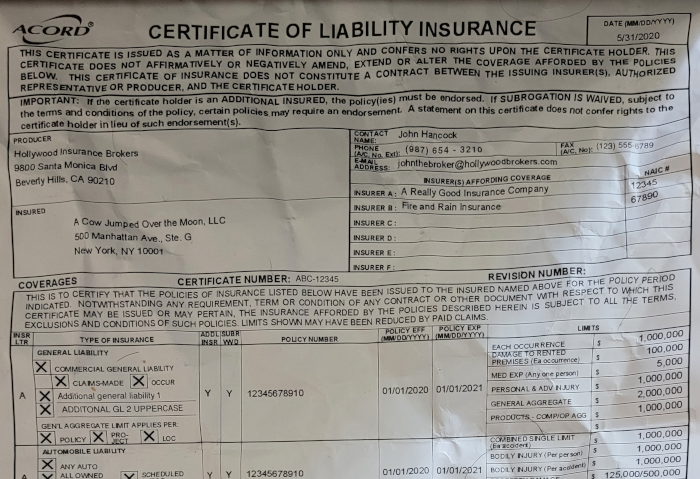 Most used ACORD forms include:
ACORD 23: Vehicle or equipment certificate of insurance form
ACORD 24: Certificate of property insurance form
ACORD 25: Certificate of liability insurance form
ACORD 27: Evidence of property insurance form
ACORD 28: Evidence of commercial property insurance form
ACORD 101: Additional remarks schedule form
ACORD 125: Commercial insurance application form
ACORD 126: Commercial general liability section form
ACORD 130: Workers compensation application form
ACORD 131: Umbrella excess section form
ACORD 160: Business owners section form
ACORD 3101: Additional remarks schedule form
Try now
Experience our AI on ACORD Forms and other types of documents now!
Start free demo
The benefits of automated
ACORD Forms document processing
Establish proof of certification

Eliminate thousands of hours spent on document processing

Process right from your existing software
Learn how innovative insurance companies use our AI
Our insurance customers save thousands of employee hours per month using our AI to process complex ACORD documents in seconds with 99.7% accuracy.
READ CASE STUDY
One product for all your data extraction needs
Pick a category to learn how we can automate your document processing scenarios.
Our AI service can scale infinitely in the cloud. No hardware or templates needed.