Extract Data From ACORD Forms
ACORD (Association for Cooperative Operations Research and Development) Forms enable the efficient and effective flow of data among all stakeholders across the insurance value chain. Base64.ai is a member of the non-profit ACORD Organization. Our AI extracts all data from multi-page and complex ACORD forms whether they are digital or scanned.
Document type
ACORD 25 form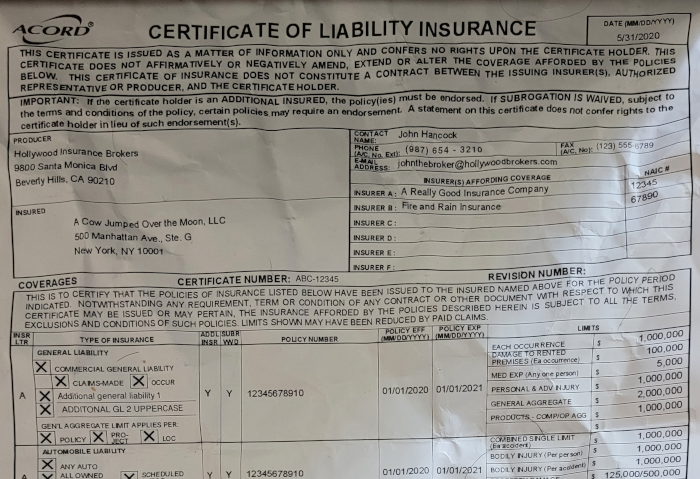 Most used ACORD forms include:
ACORD 3: General liability notice of occurrence/claim
ACORD 22: Intermodal interchange certificate of insurance
ACORD 23: Vehicle or equipment certificate of insurance form
ACORD 24: Certificate of property insurance form
ACORD 25: Certificate of liability insurance form
ACORD 27: Evidence of property insurance form
ACORD 28: Evidence of commercial property insurance form
ACORD 35: Cancellation request/policy release
ACORD 36: Agent/broker of record change
ACORD 45: Additional interest
ACORD 60: Flood insurance notice/rejection
ACORD 60 US: Insurance supplement
ACORD 61 PA: Pennsylvania auto supplement
ACORD 62 US: Insurance supplement - standard fire policy only
ACORD 63: Fraud statements
ACORD 69 MD: Maryland insurance supplement
ACORD 75: Insurance binder
ACORD 80: Homeowner application
ACORD 84: Dwelling fire application
ACORD 101: Additional remarks schedule form
ACORD 105: Apartment building supplement
ACORD 125: Commercial insurance application form
ACORD 126: Commercial general liability section form
ACORD 127: Business auto section
ACORD 128: Garage and dealers section
ACORD 129: Vehicle schedule
ACORD 130: Workers compensation application form
ACORD 131: Umbrella excess section form
ACORD 134: Non-election form
ACORD 137 CA: California commercial auto
ACORD 137 IA: Iowa commercial auto
ACORD 137 IL: Illinois commercial auto
ACORD 137 LA: Louisiana commercial auto
ACORD 137 NC: North Carolina commercial auto
ACORD 137 NJ: New Jersey commercial auto
ACORD 137 NV: Nevada commercial auto
ACORD 137 NY: New York commercial auto
ACORD 137 PA: Pennsylvania commercial auto
ACORD 137 SC: South Carolina commercial auto
ACORD 137 TX: Texas commercial auto
ACORD 137 WA: Washington commercial auto
ACORD 138 LA: Louisiana garage and dealers
ACORD 139: Statement of values
ACORD 140: Property section
ACORD 141: Crime section
ACORD 144: Glass and sign supplement
ACORD 146: Equipment floater section
ACORD 160: Business owners section form
ACORD 163: Commercial auto driver information schedule
ACORD 175: Commercial policy change request
ACORD 810: Business income
ACORD 3101: Additional remarks schedule form
Try now
Experience our AI on ACORD Forms and other types of documents now!
Start free demo
The benefits of automated
ACORD Forms document processing
Establish proof of certification

Eliminate thousands of hours spent on document processing

Process right from your existing software
Learn how innovative insurance companies use our AI
Our insurance customers save thousands of employee hours per month using our AI to process complex ACORD documents in seconds with 99.7% accuracy.
READ CASE STUDY
One product for all your data extraction needs
Pick a category to learn how we can automate your document processing scenarios.
Our AI service can scale infinitely in the cloud. No hardware or templates needed.